Generation Eight








Captain Alexander Hamilton (1831-1890)
Captain Alexander Hamilton Horton commanded Company B. 26th NC Regiment, Confederate States of America. He married Mary Jane Vogler, daughter of Timothy Vogler, a Gun and Locksmith of Salem, Nc, and served as Clerk of Superior Court in Wilkes County for nearly twenty years.
CAPTAIN ALEXANDER HAMILTON8 HORTON (WILLIAM7, NATHAN6, NATHAN5, CALEB4, BARNABAS3, CALEB2, BARNABAS1)1,2 was born December 30, 1831 in Yadkin River Section of Wilkes County, Nc3 ; died December 15, 18903 and is buried in the Horton Cemetery in Wilkes County, Nc7. He married MARY JANE VOGLER4,5 1861 in Elkville, Wilkes County, Nc, daughter of TIMOTHY VOGLER and CHARLOTTE HAMILTON. She was born April 02, 18386, and died April 26, 1921.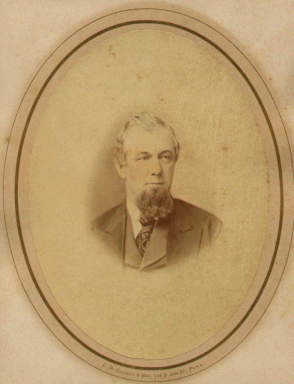 Children of ALEXANDER HORTON and MARY VOGLER are:
i. HAMILTON VOGLER9 HORTON8, b. July 20, 1864; d. November 21, 1929; m. ANNIE LAURA COWLES; b. September 27,
1871; d. February 25, 1912; buried in God's Acre, Old Salem, Salem, Nc.4
ii. DR. PHINEAS EDGAR9 HORTON8, b. September 26, 1872, Salem, Forsyth County, Nc; d. April 14, 1940, Winston-Salem,
Forsyth County, Nc; m. CARRIE ALICE BEARD9, August 16, 1899; b. August 01, 1879, Kernersville, Forsyth County, Nc10; d.
October 31, 1960, Winston-Salem, Forsyth County, Nc. Both are buried in God's Acre, Old Salem, Salem, Nc.

circa 1895

Standing: Hamilton Vogler Horton, wife Annie Cowles Horton, and Phineas Edgar Horton
Seated: Mary Jane Vogler Horton (widow of Alexander Hamilton Horton) and her parents Timothy and Charlotte Hamilton Vogler
Children: Mary and Louise Horton (daughters of Dr. and Mrs. H. V. Horton)



---

Endnotes

1. Hickerson, Thomas Felix; Happy Valley: History and Genealogy, pg. 40.
2. The Heritage of Watauga County North Carolina, Volume II, 1987, pg. 106.
3. Cemetery Records Wilkes County Area NC, Volume I; published by The Wilkes County Genealogical Society, Inc., pg. 105.
4. Fries, Adelaide I., 1874-1949: Index to memoirs filed in Salem Moravian Archives from 1719, Winston-Salem/indexed by Adelaide L. fries, copies and
presented by General Joseph Winston Chapter, D.A.R.. Winston-Salem, NC: The D.A.R. (1938?) (4), 79 leaves. Lists names with birth and death dates.
Typewritten ms, 2 microfiches LH 127; OCLC no. 07993369
5. Hickerson, Thomas Felix; Happy Valley: History and Genealogy, pg. 40.
6. Fries, Adelaide I., 1874-1949: Index to memoirs filed in Salem Moravian Archives.
7. Cemetery Records Wilkes County Area NC, Volume I; published by The Wilkes County Genealogical Society, Inc., pg. 105.
8. Hickerson, Thomas Felix; Happy Valley: History and Genealogy, pg. 40.
9. Home Moravian Church Records, Winston-Salem, NC.
10. Winston-Salem Journal, November 1, 1960, Obituary for Carrie Beard Horton.

To generation Nine
Return to Main Menu
Please email questions and comments concerning this page to:




Return to Long Island Genealogy Home Page