Welcome to Long Island Genealogy


Please Consider a Donation - Asking for donations is never easy, sadly it's a fact our presence doesn't come without cost. Because of that we are asking you to become a contributing member of "Long Island Genealogy" by making a donation to support it's work. Without your support we can't continue.


Donations can be made by clicking on the Donate Button to the left or sending a check. For directions on sending a check please

follow this link

.
The Raynor/Rayner family of Long Island


Edward Rayner
(1624-1682)
Information taken from a series of unidentified articles in "Raynor Family History,"

by Clinton E. Metz - Freeport Village Historian (undated abt 1970)

Freeport's founder was an orphan when he crossed the Atlantic with his uncle Thurston Raynor. That fact has always been suspected but has been a source of contention until research finally bore fruit at the Suffolk County Historical Society Museum in Riverhead, on Long Island.
Thompson, in his famous Long island History called Edward and Thurston brothers - Pelletreau's "American Families of Historical Lineage" contended that Edward probably was Thurston's son when they sailed together from Ipswich, England in 1634.
Now, like a breeze dispelling fog, comes a pair of letters found at the Riverhead Museum. The letters from George W. Matthews of Cutchogue (formerly a Rockville Centre resident) said that he had a copy of the will of Edward Raynor - the Freeport founder's grandfather - which was probated in Elmset, England on July 7, 1621.
After mentioning his "son Thurston" three times in the will, Mr. Raynor bequested sums of money to others, including "Ann, Marie, John, Edward and Robert, sons and daughters of my late son Edward Raynor, deceased."
Mr. Matthews kindly shared a copy of the will. He also shared a copy of a will written by an earlier ancestor, Robert Reynere of Wickham Market, County of Suffolk, England, on October 4, 1571.
Robert Reynere's great-grandson Edward sailed to massachusetts with his uncle Thurston. The boy's mother had died in England before his father. Orphaned, Edward joined the children of his uncle Thurston and aunt Elizabeth on their voyage to the "new world." Thurston ultimately settled in Southampton.
Mr. Matthews quotes Donald Linus Jacobus, editor-in-chief for many years of the American Genealogist, on the origin of the Raynor family in England. Jacobus' statement, summarized briefly follows: The Raynors derived from Robert Reynere of Wickham Market, Suffolk, who died testate between October 4 and December 5, 1571. His son Edward Raynor of Elmsett in the same county, made a will on March 22, 1620, proved July 7, 1621, which names his sons Edward, Richard, John, Samuel, Thurston and Robert, and daughter Anne, wife of Robert Lewes of Great Bricet, Suffolk, as well as a son-in-law Henryn Pinson until the grand-children's 18th birthday.
Clifford Roe Raynor of Manorville gave copies of both wills to Mr. Matthews.
The other discovery sheds light - or at least presents an ingeniopus theory on the name of Edward raynor's wife. A quest in the Genealogy Room of the New York Public Library uncovered a 1946 survey, entitled "Edward Raynor of Hempstead, Long Island and some of his descendants," by Henry Alanson Tredwell. Edward's wife was probably named Deborah Partridge before her marriage.
From her husband's will, plus the wills of Elizabeth Partridge of Flushing dated 1696, and Thomas Partridge of the same place, dated 1696, Mr. Treadwell believes that Mrs. Raynor may have been the Deborah Raynor listed as a Hempstead Town resident in 1698.


Edward Rayner (Raynere, Raynor) of Raynertown (Freeport), LI, NY


The first Raynors to come to America were Thurston Raynor, his wife, Elizabeth, their five children, and Thurston's ten year old nephew, Edward Raynor. Residents of Elmsett, in the County of Suffolk, they left Ipswich, England in April 1634 aboard the ship, Elizabeth, and arrived in Boston three months later. They settled first in Watertown, Massachusetts, and in 1636, along with some other Watertown families, they went to Wethersfield, Connecticut, where Thurston Raynor was listed among the first settlers. In 1641, Thurston Raynor and his family and several other families from Wethersfield moved on to settle Rippowams, the area now known as Stamford, Connecticut. Three years later, in 1644, Thurston Raynor once again uprooted his family and joined with twenty-two other Rippowams families in following their religious leader, Rev. Denton, to Long Island where they settled Hempstead, in the western part of the Island.
The Edward Raynor family, the largest of the Raynor families, have generally lived in Nassau County and the western part of Suffolk County. Before the middle of the past century Freeport, in Nassau County, was known as Raynortown, due to the large number of Raynor descendants living there. Edward Raynor is said to have founded the settlement area in 1659.
The Raynor family often intermarried with the Carman and "Rock" Smith families whom they consequently share a great deal of history. This genealogy relates to the descendants of Edward and Thurston Raynor who settled early at Southampton (his descendants stiuck mainly to the east end of LI).
Edward Raynor came to America with his Uncle Thurston Raynor in the year 1634. The ship, Elizabeth of Ipswich, departed Ispwich, England on April 30, 1634 with 108 passengers. They arrived in Boston Harbor in July 1634. Edward was ten years old and a orphan. At the age of 21, Edward elected to stay in Hempstead, NY, and eventually establish his home in "South Woods." It was later named Raynor South, then Raynortown. Until the mid-nineteen century it was named Freeport.

---
Josiah Raynor of Manorville, LI, NY




Abstracted from the introduction of "Josiah Raynor of Manorville, LI, NY," by Stuart Payne Howell




All of Mr. Howells excellent Raynor works (now over 1000 pages of compiled research) are available on one CD at GenealogyCds.com
Josiah Raynor settled in Manorville, Long Island, New York sometime after 1717. Manorville, which is situated in both Riverhead and Brookhaven Townships, formerly had other names: Punk's Hole, Brookfield, St. George's Manor, Manor of St. George, and Manor. I have used the names, St. George's Manor, Manor and Manorville interchangeably throughout this genealogy.
Josiah Raynor was the grandson of Thurston Raynor, the first Raynor to come to America, who immigrated to Boston, Massachusetts Bay Colony from Ipswich, England in 1634 with his wife and children and an orphaned nephew, Edward Raynor. Thurston Raynor and his family settled in Southampton, Long Island sometime between 1646 and 1649, arriving there via Watertown, Massachusetts (1634-1636), Wethersfield, Connecticut (1636-1641), Stamford, CT (1641-1644), and Hempstead, Long Island (1644-1646/9). Thurston Raynor had ten children, seven of whom lived to adulthood. Josiah Raynor, son of Thurston's son, Joseph, moved to Southold, L. I. from Southampton; from there he went to Lyme, CT, where his children were born, and eventually, he returned to L. I., and settled in the area now known as Manorville.
Prior to 1700, Josiah Raynor had been involved in piracy escapades as a crewman on privateer vessels. In the late 1690's, he was arrested when he came ashore on the eastern end of Long Island with his chest of possessions from the notorious Captain Tew's pirate ship. Josiah Hobart, High Sheriff, arrested Josiah and confiscated his chest (estimated value: 1500 pounds). Through the intercession of his friend, John Wicks, who made a "present" of fifty pounds to Governor Fletcher of New York, Josiah Raynor and his chest were released. It must have been shortly after that episode that Josiah Raynor abandoned his piracy ways, for in 1700, he settled in Lyme, CT, where he started his family. Just prior to that time, Josiah Raynor had purchased a sizable piece of property in Westchester County, New York, but because of his piracy activities, he was not welcome in New York, so he sold his New York holdings and moved to Connecticut.

---
Jonathan Raynor of Ketchaponack, LI, NY

Abstracted from the introduction of "The Raynor's of Ketchaponack," by Stuart Payne Howell

All of Mr. Howells excellent Raynor works (now over 1000 pages of compiled research) are available on one CD at

GenealogyCds.com

Jonathan Raynor was the first white resident of Ketchaponack, the area encompassed by the villages of Westhampton and Westhampton Beach on eastern Long Island. From that one seed, many little Raynors have sprouted to abundantly populate the hamlets of Westhampton and Westhampton Beach, as well as the larger world beyond.
Jonathan Raynor was the grandson of Thurston Raynor, our first Raynor ancestor in America, who immigrated to New England from England in 1634 with his wife and children and an orphaned nephew, Edward Raynor, and in the 1640's, settled in Southampton, Long Island. Thurston Raynor had seven children who lived to adulthood, and probably 30 - 40 grandchildren; therefore, it is likely Thurston's descendants have numbered in the hundreds of thousands.
Originally, the village of what is now Westhampton Beach was laid out in three distinct divisions; eventually, all three divisions of the new settlement became known as Ketchaponack (or Catchaponack, or any of eight other spellings) - an Indian term meaning a place where large roots grow.

Raynor Help needed with the following: Anyone with any information please contact LIG - thank you!! I am looking for information on the Raynor/Penny family of Long Island. Raynor's first names are either John, Edward, or Edwin and I have no first name for his wife, ___ Penny. One of their sons, William Edward Raynor, was born in 1837 and was kidnapped at age 12 from a NY wharf and taken on a whaler for 6 years. Any information on the Raynor/Penny connection would be greatly appreciated.

---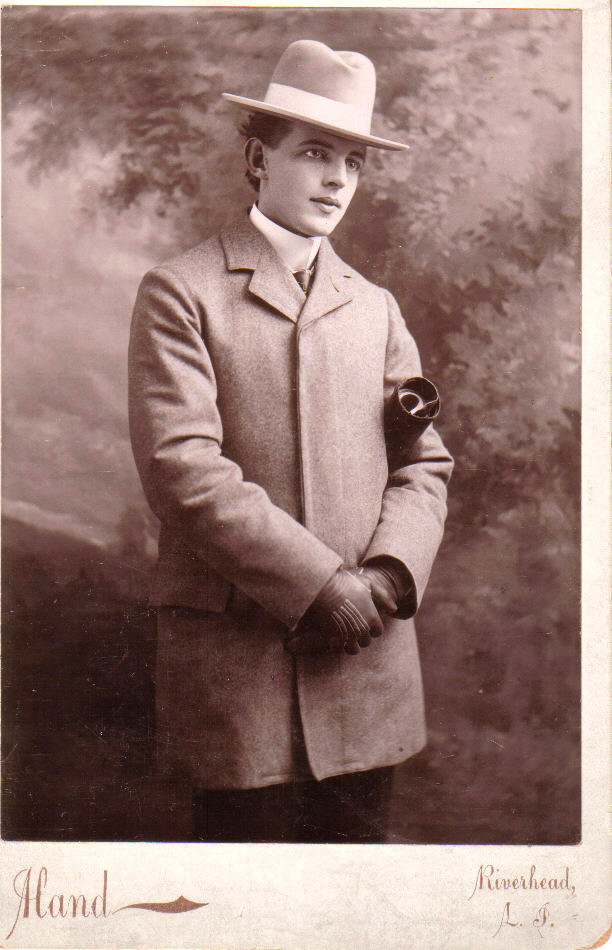 Clifford Roe Raynor, son of George Roe Raynor. provided by Laurie Randall

---

First 4 Photos donated by William P. Penney penney@pointroberts.net
Additional photos from Long Island Genealogy Family Collection
Additional Raynor Photos can be found at http://longislandgenealogy.com/photos1.html

Horace Merry Raynor age 65


Home of Horace and Laura Penney Raynor


Laura Penney Raynor and her Grandmother
Laura E. Robinson Raynor


Originally Capt. J. Norton Raynor's "Old Farm" house located overlooking East Bay at East Moriches, LI, NY. In the early 1900's his son, Horace Raynor had it moved to the present location on the west side of Atlantic Avenue, East Moriches.
photo by Van Field taken in 1999


Susan (Susie) Raynor born Oct. 4, 1871- died June 23 1911 - daughter of Laura Robinson and Horace Raynor, married Howard Oakley Penney


Lottie E. Reardon Raynor wife of Frederick C. Raynor


Frederick C. Raynor born August 04, 1871 Raynor line unsure.
Married Lottie E. Reardon


Olin Raynor son of Lottie and Fred Raynor
Suffolk County Wills
Offered for Probate in the Surrogate's Office, Riverhead
Riverhead, L.I., June 12, 1900

The will of Norton RAYNOR of East Moriches, disposing of an estate of upward of $5,000, makes the following bequests: To Horace M. RAYNOR of East Moriches, a son, ten acres of land in the Town of Brookhaven, a sail boat and one cow; to Caroline MILLER of Kenton, O., a daughter, an old rocking chair that was once the property of the testator's grandmother, while the household goods and money in the Southold Savings Bank are to be equally divided among testator's six children; the balance of the estate is to be divided as follows: Two-thirds to testator's three sons, Hiram, Austin and Horace RAYNOR of East Moriches; one-third among the three daughters, Caroline MILLER of Kenton, O. Amelia CHICHESTER of East Moriches, and Mary DAVIS of Morristown, N.J. Hiram and Horace RAYNOR are the executors.

[Brooklyn Eagle, Jun 12, 1900, p 7.]
Obituary -- Long Island
Captain J. Norton RAYNOR

East Moriches, L.I., May 18 -- Captain J. Norton Raynor, the oldest man in this section, died last night in his 90th year. He was a well known smack skipper in the New York markets from 1832-1845. He bought a farm in 1847 and lived on it until the present time, but still retained his interest in fishing, and before becoming incapacitated by age was one of the most expert surfmen on the Great South Beach. For many years, under the old Benevolent Life Saving Society regime, before the organization of the paid service, he had command of the life boats in shipwrecks. He was in charge at the wrecks Franklin, Argo, Persian, Conquest, Mail and many others.
He was born in the Manor and was the last one living of fourteen brothers and sisters, all of whom lived to mature age, and his six children, the youngest over 50 years of age, all yet living, are Mrs. J. C. Miller of Kenton, O.; Captain Hiram Raynor of Center Moriches, Captain Austin Raynor, Horace M. Raynor and Mrs. Ira K. Chichester of East Moriches and Mrs. Louis L. Davis of Morristown, N. J. There are also fifteen grandchildren and twelve great-grandchildren. The funeral will be from the residence tomorrow afternoon.

[Brooklyn Eagle, Page:13, Date: Monday, May 28, 1900]
Riverhead, L. I., March 6, 1900
The death of Edgar Raynor, for many years a prominent citizen of this village, occurred yesterday at his home here after a short illness of grip and pneumonia. He was about 73 years of age. Mr. Raynor came to Riverhead many years ago from Manor* and was for some years a photographer - the only one in this section at that time. He secured a competence and after retiring from business he conducted livery and boarding stables for a time, but for many years past has led a retired life. He has been a conspicuous figure in the life of the village, enjoying the esteem of all. He is survived by his widow, Mrs. Edna Raynor, who is the treasurer of the Village Improvement Society, and Preston Raynor of Manor, a brother. The funeral services will be conducted Thursday afternoon. The Rev. Mr. Seward of Manhattan, a minister of the Swedenborgian faith, will preach the sermon.
*Manorville, L.I.

[Brooklyn Eagle, Page:7, Date:Tuesday, March 06, 1900]