Please take a moment

to help us with a small donation toward site maintenance. The costs involved in providing a site of this size are high. We can't do it alone. If you leave it to someone else this resource will disappear. We need your support to stay alive!!
The Long Island Austin Family
This information was submitted by
Diana C Hamlett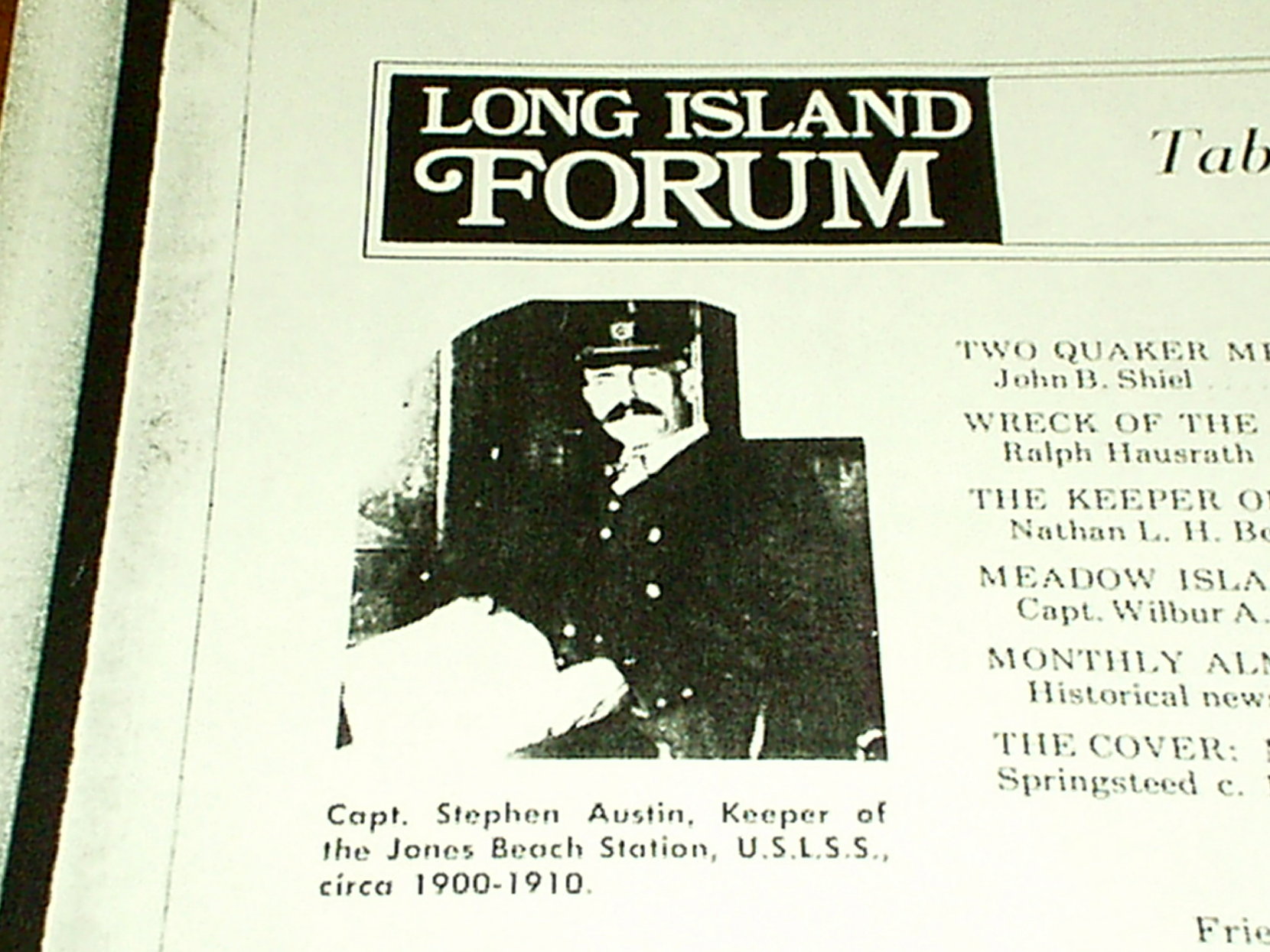 Captain Stephen Austin in the United States Life Saving Service circa 1900-1910
NOTES ON Austin Family Members
Charles Austin
Edward Clifton Austin
Elizabeth M. Austin
Ethel Mae Austin
Ira Chichester Austin
Melvin Austin
Stephen Austin
The Austin's began in Horsemonden, Kentshire, England back in the 1500's. The name Austin itself is a contraction of Saint Augustine. When Henry the 8th closed the monastaries many of the monks took the surname Austin. (Also spelled Austen.) The Austin's have a history of being farmers, carpenters, baymen, and very active in the United States Life Saving Service, which became the United States Coast Guard in the early 1900's.
Stephen Austin was born in 1797 and died in 1877. Stephen and his spouse Hannah Tucker are listed in the 1860 Federal Census living in Huntington Town, Suffolk County, New York, with their daughter Hannah Adella, their granddaughter Arabella, and Peter Ketcham. Stephen's occupation is listed as a shoe maker. Stephen and wife Hannah are also listed in the 1870 Federal Census, living in Huntington Town, Suffolk County, New York. Stephen is now a fisherman.
Stephen was a veteran of the War of 1812. He is listed on page 452 in the History of Brooklyn as a Brooklyn Veteran of the War of 1812. He was under the command of Captain Joseph Dean, the Consolidated Regiment of Militia, commanded by Lieutenant-Colonel John A. Ditmars, from September 2, 1814, when last mustered, to the 18th of November 1814, in the service of the United States. His wife Hannah is on the List of Pensioners January 1, 1883 in Volume II page 423.
The following are notes from the writings, (June 1989), of Ralph Hausrath, Great Grandson of Abraham Austin and Margaret Brush.
Sometime in the middle of the last century a carpenter named Abram Austin, (Abraham), who came from the Copiague area, married Margaret Brush, a woman who came from Moriches. He was born in May 1831, and died in June of 1901. she was a bit older, having been born in October 1927. She died May 1913, according to the dates on their tombstones in the Amityville Cemetery.
Abraham was a carpenter and sometimes a Bayman. His four sons seem to have followed in his footsteps. He worked for a time, around 1858, helping to rebuild the Fire Island Lighthouse which has first been erected in 1825. Abram and Margaret lived at the "Old Homestead" as their children called it. It was located on South Great Neck Road, Copiague. The house and probably the barn, too, still stand, I believe. It is located directly opposite the entrance to Schmeelk Place.
Though their three older children left home at early ages to marry and found their own homes, the two younger ones remained at the homestead until after the death of their Mother in 1913. This was because sometime before 1900, their mother had fallen over a kitten, (or kittens) and broke her hip. The result was that she became a cripple for the rest of her life. Her daughter Elizabeth, ("Libby"), who had expected to marry, gave up the idea and remained permanently at the home to care for the old lady. Libby's brother Melvin, already a member of the Life Saving Service, although already engaged to be married, changed plans and made it his life's work to care for the homestead and help his sister with their crippled Mother whenever he was off duty and ashore.
Abram died in 1901 but his widow lived on for 12 more years. After her death, Elizabeth and Melvin, teamed up to build a new house further down South Great Neck Road and the "Old Homestead" became a rental property until Elizabeth sold it in 1942. It went to a Lester Austin, a distant relative, but not a member of Abraham's direct line of the Austin Family.
Abraham was born May 20, 1831 and he died June 30, 1901.
Notes from research of Diana and Dawn Austin, and Steve Henderson.
Abraham Austin and his wife Margaret, (Brush was her maiden name), are listed in the 1860 Federal Census, and their children. Phillip Chichester was also living with them along with Margaret and Whitman Brush. Margaret was probably Margaret's mother. Her mother is 70 years old. Abraham's occupation is fisherman. I also found them listed on the 1880 Federal Census still living in the Town of Babylon, Suffolk County, New York, just as they were in 1860. Only now Abraham's occupation is carpenter. Their children are with them along with 8 year old John Brush. In the 1900 Federal Census they are still living in Babylon Town, Suffolk County, New York. Abraham is now listed as a farmer.
Along with their children, their grandson, 5 year old Birdsall is also living with them. By 1910 Margaret is listed as a widow, still living in the same town, along with her daughter Libby, and son Melvin. They lived on Great Neck Road in Copiague. Her son Charles was their next door neighbor.
From the Note books of Mike Austin: Austin's of America File
#024082: Abram Austin (s. Stephen & Hannah Austin) b.1831 d.1901 m. Margaret Brush (dau. Whitman & Margaret Brush) b.1827 d.1914, r. Amityville L I; ch: Charles b.1856; Edward Clifton b.1857 m1. Amie Turner m2. Ella Chichester; Edgar b.1858; Stephen b.1860; beth (Libbie) b.1863; Melvin b.1865

---
---
The files contained on this site have been researched and donated for public use by the visitors of Long Island Genealogy and its expanding family. They are not to be reproduced for commercial purposes but are freely offered for your personal use. Please verify all information and use it as a guide in your personal research not as an end goal. Although every effort has been made to ensure the accuracy and reliability of the information on the Long Island Genealogy Website we are all subject to human error, therefore researchers should, whenever possible, check the original source of any information.



Thank You for Visiting and please come back soon!



---
---