Welcome to Long Island Genealogy


Please Consider a Donation - Asking for donations is never easy, sadly it's a fact our presence doesn't come without cost. Because of that we are asking you to become a contributing member of "Long Island Genealogy" by making a donation to support it's work. Without your support we can't continue.


Donations can be made by clicking on the Donate Button to the left or sending a check. For directions on sending a check please

follow this link

.
Powell-Jarvis House
(Huntington Historical Society)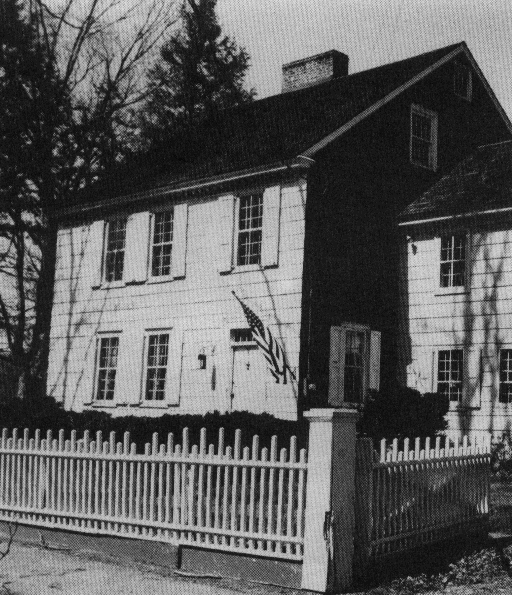 The Powell-Jarvis House was built in 1795 and is a museum of period rooms in the Federal, Empire
and Victorian styles as well as early Huntington pottery, Long Island paintings and an outstanding collection
of antique costumes. Built by Timothy Jarvis, a housewright, it boasts of many fine architedtural details.
Also on the same site is a barn containing a Harnessmaker's shop. Adjacent to the barn is the Museum
Shop, an emporium of gufts, antiques and craft items.

Location: 434 Park Avenue
Huntington, NY 11743
Telephone: 631-427-7045
A COPY OF THE WILL OF THOMAS POWELL
Last will and testament of Thomas Powell Sen late of Bethpage now of Westbury in the limits of Hempstead in Queens County on Nassau Island in the Colony of New York
Whereas the certainty of mortality is before me and the uncertainty when the time of my dissolution shall come, and now being indifferent in health and of perfect memory do hereby make and ordain and appoint this my last will and testament for the disposing of what is disposable by me, and in order thereunto I do in the first place give and bequeath my soul to God my Maker from whom I have received mercy and hope and believe I ever shall as I keep in his fear and stand in his counsel through Jesus Christ my Lord and Savior who suffered the shameful death of the Cross without the Gates of Jerusalem and ascended on high and led captivity captive and hath given gifts unto men for the edifying of the Body his church for the perfecting the Saints among whom my lot is fallen as well to believe the Gift as to Receive it, so that by the prevailing of the Gift -- the giver working with it -- I come to know his Righteousness, imparted as well as imputed to me and in a sense thereof my Soul doth praise the Lord Jehovah who with his Glory Enlighteneth His Holy City the Lamb is the Light thereof and the Nations of them that are saved shall walk in the Light thereof so that by the Revelation of the Son of God in my inward parts which is manifested by the Light, (for whatsover makes manifest is light) I come to witness the light of the knowledge of the Glory of God in the face of Jesus Christ, but we have this Treasure in our earthen vessels that the Excellency of the Power may be of God and not of us, and with the holy Apostle Paul to witness that God who commanded the light to shine out of Darkness to shine in our hearts.
Secondly I give my Body to the Earth from whence it was taken to be buried in a decent manner at the discretion of my executors herein after named.
And as to my outward Estate, after all my just debts are paid I do dispose of it as followeth, Imprimis I will and Bequeath unto my son Thomas Powell and to his heirs and assigns forever, Twenty acres of Plain Land that I bought of John Westcoat, and all other Land and Right of Land that I have given him Deeds of Gift for.
I will and bequeath unto my daughter Abigail Willets one wainscot chest, and a Box of Small Drawers that was her mothers, together with what other things she has already had, I give and Bequeath unto my Sons John Powell and Jonas Powell and Caleb Powell and Wait Powell and Elisha Powell, to them and their Heirs and Assigns forever all the land and Rights of land and Meadows as is particularly mentioned in their Several Deeds of Gifts for the same.
I will and Bequeath unto my Son Caleb Powell and unto my son Elisha Powell and to their Heirs and assigns forever the Equal two thirds of said lot of Meadows lying on the Great Neck at Huntington South lying on the west side of the third part of said lot of meadow that I sold to my son Thomas Powell to be equally divided between them or their Heirs and assigns forever, and I bequeath unto my youngest son Solomon Powell the sum of Two Hundred Pounds of Current lawful money of New York to be paid unto him when he shall arrive to the age of one and twenty years or shall have some lawful issue begotten by his own body or which of them shall first happen, -- but if my Son Solomon Powell happen to die before he arrive at one and twenty years of age and have no Lawful issue begotten of his own Body Then the above said Two hundred Pounds shall be, the equal two thirds parts thereof Divided between all my Daughters that I have now living, and the children of my Daughter Elizabeth Titus to have one equal share divided amongst them, and all my daughters to have an equal share and share alike. and if my daughter Abigail Willets shall die before my son Solomon Powell, and my son Solomon Powell before he arrive at the age of one and twenty years, or have any lawful issue her part and share of said money shall be equally divided amongst all her children.
And whereas the said Two Hundred pounds Bequeathed unto my son Solomon, and in case of his decease before he arriveth at the age of one and twenty years or have any lawful Issue the equal two thirds parts thereof Bequeathed to all my daughters and is now due in the hands of my son Thomas Powell, my will is that all the mean profits and rents thereof shall also be equally divided as the said two thirds part of the said two hundred pounds. Allowing to my Executors all their just charges about the executing this my will, and in case my son live to the age to receive his portion above said he shall also have all the mean profits and Rents thereof, allowing the charges of the executors above said. I will and Bequeath if my son Solomon die without lawful issue or before he be one and twenty years old the equal one third part of the Two hundred pounds Bequeathed to him be equally divided between all my sons viz My son Thomas Powell and my son John Powell and my son Jonas Powell and my son Caleb Powell and my son Wait Powell and my son Elisha Powell and in case of any of their decease to their Heirs and also the mean profits and Rents thereof as above said I will unto them. And I will unto Samuel Titus the sum of one pound and ten shillings current money of New York in full of the remaining part of his wife's portion.
I will and Bequeath unto my two youngest daughters Sarah Powell and Amey Powell my Bed and Bedding and furniture belonging unto it. I will and bequeath unto my son Elisha Powell all my apparel and wearing clothes, and all the remaining part of my estate in money goods and chattels after my just debts are paid shall be equally divided amongst my six youngest daughters viz my daughter Mercy Powell and my daughter Sarah Powell and my daughter Amey Powell and my daughter Hannah Willis and my daughter Phebe Willis and my daughter Rachel Willets.
I do hereby constitute, authorize, and appoint and ordain my Loving Brother Thomas Townsend and my trusty and loving Friend Benjamin Seaman and my two sons in law William and Henry Willis to be my Executors of This my last Will and Testament and I do hereby Disallow Revoke and Disannul all and every other former Testaments, Wills, Legacies, Bequests, and Executors by me in any wise named and bequeathed or Willed and Bequeathed. Ratifying and confirming this and no other, to be my last will and Testament.
In witness whereof I have hereunto set my hand and seal this third day of the first month one Thousand seven hundred and nineteen, twenty.
The words to whom, and the words the equal two thirds part thereof Bequeathed, interlined before signing and sealing thereof.
THOMAS POWELL. [L. S.]

Signed sealed published, pronounced and delivered by the said Thomas Powell as his last Will and Testament in the presence of us the Subscribers
NATHANIEL SEAMAN,
SILAS TITUS,
JOHN WILLIS,
JACOB WILLIS,
WILLIAM WILLIS.