Welcome to Long Island Genealogy


Please Consider a Donation - Asking for donations is never easy, sadly it's a fact our presence doesn't come without cost. Because of that we are asking you to become a contributing member of "Long Island Genealogy" by making a donation to support it's work. Without your support we can't continue.


Donations can be made by clicking on the Donate Button to the left or sending a check. For directions on sending a check please

follow this link

.
The Hulse family of Long Island
First Generation - Richard Hulse
Richard Hulse, was born about 1640/1645, possibly in England, and died between 4 July and 21 August 1696 in Brookhaven, Long Island, New York. His first wife's name is unknown, but was the mother of his four sons Thomas, Richard, Joseph, and John. She died between 1675 and 1680. He then was married for the second time, before 6 June 1681, to Hannah Beardsley (also recorded as Hannah Dayton in the 1692/3 will of Walter Jones who left Richard a portion of his estate.) No issue is known by this latter marriage. Richard first appeared in local records, 21 September 1670, as a witness to the deed for land at Brookhaven sold by Andrew Miller to Richard Smith. Land was granted to him by the town in 1676, but no other record of him has been found until he appeared in the will of Walter Jones when his four children were specifically mentioned.

Captain Lester Hulse
March 28, 1817 - Patchogue, N.Y
October 03, 1894 - Port Jefferson, Long Island, New York
Photo taken before 1892


Elizabeth Eleanor Overton Hulse
Wife of Lester - Mother of Morrell
April 12, 1829 - Baiting Hollow, N.Y.
May 15, 1895 - Port Jefferson, Long Island, New York
Photo taken 1892 - 63 years of age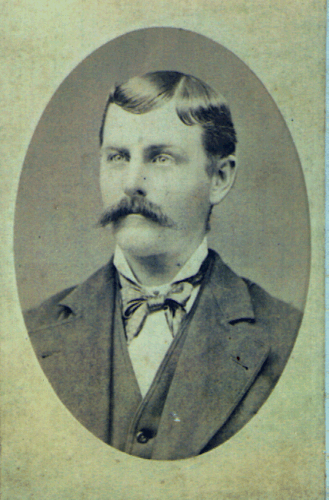 Captain Morrell Edson Hulse
son of Lester and Elizabeth
July 26, 1850 - Calverton, LI, NY
February 18, 1933 - Yaphank, LI, NY

An American seaman, one of the last packet sailors in the era of sailing vessels. At an early age, he shipped on a packet sloop with his father, Captain Lester Hulse, and continued to follow the sea throughout his active life. For several years he was Assistant Keeper of the Stratford Shoals, Conn. Lighthouse, located on the LI Sound. In June 1906, he was awarded the Diploma of Honor by La Societe des Sauveteurs for subduing a maniac single-handed and maintaining the light for a week during which he prevented the loss of a French vessel.
1. CAPTAIN LESTER8 HULSE (JONAH7, JONAH6, JONAH5, PAUL4, RICHARD3, RICHARD2, RICHARD1) was born March 28, 1817 in Patchogue, N.Y, and died October 03, 1894 in Port Jefferson, NY. He married ELIZABETH ELEANOR OVERTON Bet. 1841 - 1871, daughter of SAMUEL OVERTON and ELIZABETH CLARK. She was born April 12, 1829 in Baiting Hollow, N.Y., and died May 15, 1895 in Port Jefferson, Long Island, New York.
Children of LESTER HULSE and ELIZABETH OVERTON are:
2. i. CAPTAIN MORRELL EDSON9 HULSE, b. July 26, 1850, Calverton, LI, NY; d. February 18, 1933, Yaphank, LI, NY.
3. ii. ELIZABETH ANN "MACY" HULSE, b. December 25, 1856, Baiting Hollow, Long Island, New York; d. November 30, 1926, Bridgeport, Connecticut.
Generation No. 2
2. CAPTAIN MORRELL EDSON9 HULSE (LESTER8, JONAH7, JONAH6, JONAH5, PAUL4, RICHARD3, RICHARD2, RICHARD1) was born July 26, 1850 in Calverton, LI, NY, and died February 18, 1933 in Yaphank, LI, NY. He married MARY ANN RISLEY, daughter of JOHN RISLEY and BRIDGET ANN KITTLE. She was born January 11, 1862 in Middle Island, NY, and died August 11, 1960 in Port Jefferson, NY.
Child of MORRELL HULSE and MARY RISLEY is:
i. MAE ETHEL10 HULSE, b. February 14, 1890, Port Jefferson, NY; d. May 06, 1957, Smithtown, NY; m. (1) KINGSLAND MOTT FROST; b. 1881, New York; m. (2) CHARLES FARLEY; d. 1961, Smithtown, NY.
Generation No. 3
3 MAE ETHEL HULSE and KINGSLAND MOTT FROST (as above)
children of Mae Ethel Hulse and Kingsland Mott Frost
i. Anita Victoria Frost, b. 8/15/09 in Port Jefferson, NY., d. 12/28/00 in Irvine, California, m. Edward Otto Dow, May 31, 1925 in Smithtown, NY.He was Born Febrruary 11, 1903 and Died May 7, 1996.
ii. Erwin Dudley Frost, b. 10/24/1910 in Port Jefferson, NY, d. April 1975;
iii. Kingsland Mott Frost, Jr., b. 5/18/1912 in Port Jefferson, NY, d. 6/17/1996 in Whiting, NY. First wife, Helen, second wife, Martha. No children by either wife.

---
For a definitive Hulse resource and listing please refer to the HULSE Family Network Dedicated to genealogical research into those families bearing the surnames: HULSE, HULCE, HULS, HULTS, HULTZ, HOLSAERT, HULSART, HULSEHEART. They are also interested in the name VERHULST.

"Quote from the first paragraph Introduction to the Hulse Family Network

This Hulse Family Web Page is the electronic supplement to the original Hulse Family Network created back in the days of pencil, paper, and three by five cards. It is composed of material accumulated by decades of research by family historians who became nearly blind, and definitely arthritic, bending over dusty books in damp library basements trying to record by candle light the semi illiterate writings of the past. The fact that the information they accumulated by their heroic deeds is so full of holes that you can drive a truck through it does not detract from their efforts. It will be up to you, the modern internet generation, to prove them wrong (and I stress the word "prove"), and build on their efforts. There is nothing in all the work that has gone on before that can be taken for granted, and believe me what has been accumulated has only scratched the surface.

Taken from the introduction to Hulse Immigrants to America CLAN "R" - RICHARD HULSE. England. Immigrated before 1670.

WARNING NOTE: There has been recent speculation that Richard may not be the original immigrant. If this turns out to be true then the first two or three generations may have to be shuffled.
---
Marble headstone of Justus Hulse (1739-1812) son of Joshua Hulse and Sarah White
Located in the Colonial Park Cemetery, Savannah, GA.
Image submitted by Mel Hulse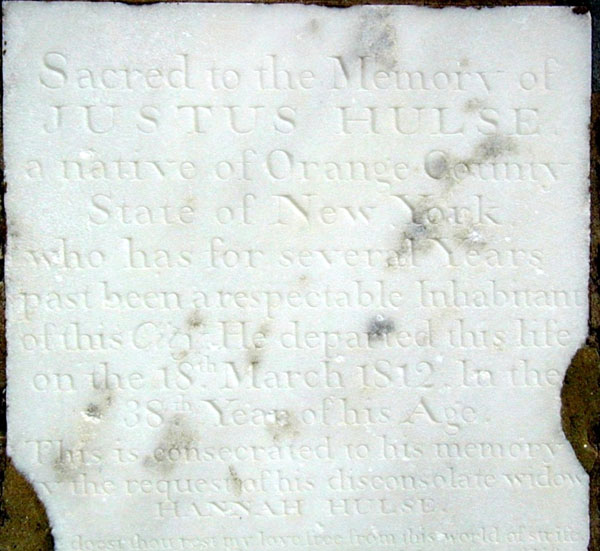 The marble headstone, which is fitted into a raised brick tomb, reads:
===============
Sacred To The Memory Of
JUSTUS HULSE
A Native Of Orange County
State of New York
who has for several years
past been a respectable Inhabitant
of this City. He departed this life
on the 18th March 1812 In the
38th Year of His Age
This is consecrated to his memory
by the request of his disconsolate widow
HANNAH HULSE
Doest you rest my love from this world of strife