Long Islanders On the Titantic
James Clinch Smith of Saint James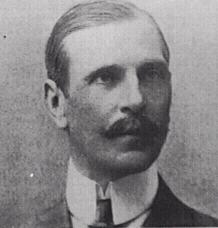 Mr James Clinch Smith, 56, of St James, Long Island, NY boarded the Titanic at Cherbourg. He was a lieutenant in the Third Cavalry, United States Army and the brother of Bessie Smith White of Smithtown, Long Island, NY. Bessie Smith White was the wife of architect Stanford White. White was murdered in June 1906 by Harry Thaw then recently married to White's mistress of five years, Evelyn Nesbit. Clinch Smith was a witness to the event.
James Clinch Smith died in the sinking.

---
Frans Olof Carlsson
Mr Frans Olof Carlsson, 33, was born 29 September 1878 the son of the late skipper and farmer Karl Magnus Nilsson from Berga, Arvika, Sweden. He had a sister and an aunt in Arvika, Sweden and a half-sister in Brooklyn, Mrs. Caroline Carlsson. Carlsson worked as a boat skipper and lived in New York.
Carlsson had got his captain's papers in New York. In April 1912 he was first mate on the liner St. Louis but because of the coal strike the ship was stuck in Southampton so the company gave him a first class ticket back to New York on Titanic.
Carlsson died in the sinking, his body was never recovered. Land that he owned in Elmhurst, Long Island went to his heirs.

---
The Staten Islander
Saturday April 20th, 1912
''Staten Islanders in the vicinity of Tottenville, are rejoicing over the safe arrival of Miss Mary Davies, of London, a sister of Mrs. E. Langford. Miss Davies arrived at her sister's home about 1.30 yesterday morning, and was immediately placed under the care of a physician for fear of serious illness from the cold and exposure resulting from the awful catastrophe of the Titanic.
Syracuse Herald-Journal
Thursday, July 30, 1987, pp. B1 and B4
New York Newspaper 1987
Mrs. Mary Davies Wilburn, the oldest known living survivor of the Titanic disaster. Mrs. Wilburn, who was 104, died on July 29, 1987 at the Community General Hospital in Syracuse, New York. For the past eight years, she was a resident at the Loretto Geriatric Center in Syracuse. Miss Mary Davies was born on May 17, 1883 in London, England. In April, 1912 she booked second-class passage on the maiden voyage of the RMS Titanic. She was travelling to the United States for the first time to visit her sister and brother-in-law. On the night of the sinking, Mary Davies and her roommate were awakened by the collision with the iceberg. Clad only in a night-gown and shawl, she quickly climbed to the boat deck. When she arrived there, she saw a large group of people wearing lifebelts. She returned to her cabin and buckled one on herself. When she reached the boat deck for the second time, she saw her roommate being helped into lifeboat number 13. The boat started to lower before she could get into it. A man standing beside her quickly picked her up and dropped her into the boat. Mary Davis said she could not forget the screams of the dying passengers as the ship slowly sank. She remembered helping a poor steerage woman with her two small children. For most of the night, she held a baby while its mother cared for the other. Three years after the disaster, Mary Davies met and married John Wilburn, an American sailor who served in the Navy during World War I, he later operated a hardware store in Tottenville, Staten Island, New York. In later years, the couple moved to Syracuse, where they raised one son. When Mr. Wilburn died in 1972, an alert reporter discovered Mrs. Wilburn with her Titanic experience. It was very difficult to discuss for she only related painful memories of that cold April night. In recent years, she gave more frequent interviews but she would suffer unpleasant nightmares for the rest of her life as a result. Mrs. Wilburn was an Honour Member of the Titanic Historical Society. With her passing, the oldest known living survivor is Mrs. Marjorie Newell Robb, of Massachusetts. Mrs. Wilburn always said she
thanked God for being a survivor. ''I'm glad to be alive,'' she once told me, ''and that God spared me. I could just have easy have not been saved.''.
MARY WILBURN, OLDEST SURVIVOR OF TITANIC, DIES
Mary Davis Wilburn, 104, oldest known survivor of the Titanic disaster, died peacefully Wednesday at Community-General Hospital, leaving behind unpleasant memories of death and terror in the North Atlantic. She was one of the lucky 800 survivors who lived to tell the story.
"When I get blue," she once said, "I live through the whole darn thing once again. I think I don't know why I'm living. It could just as easily have been me."
Mrs. Wilburn, formerly of 156 Bertram Place, was born in London, England, and lived in Syracuse most of her life. She was the widow of John Wilburn, who died in 1972. In recent years, she had received much publicity and her story was told and retold to
historians, reporters and anyone else who would listen.
Three-quarters of a century had not married her vision of her experiences as she watched the "unsinkable" Titanic disappear below the surface of the cold ocean. Mrs. Wilburn, then 28-year-old Miss Mary Davis, was on a vacation cruise on April 14, 1912 when the world's largest ship struck an iceberg, killing 1,517 people. Clad only in her nightgown and shawl, and clutching a
baby that had been given to her by a man on board, she was thrown into a lifeboat as the great ship sank. "It was a terrible thing," she recalled. "I was so sorry about the old people."
"I threw a coat on over my nightgown and put on some shoes. Then I gathered up a few trinkets, and things my parents had given me," Mrs. Wilburn said. She then began making her way through passageways and up stairways to the hurricane deck, where the lifeboats were lashed. But halfway there, a sailor ran by, hitting Mrs. Wilburn painfully in the shoulder with
his life jacket. Years later she said "I still feel it now and again. And then I realized we left our life jackets in the cabin."
Leaving an older woman to go on, Mrs. Wilburn said she ran back to the cabin for the jackets. Hers came in handy minutes later. On the hurricane deck, a sailor helped the older woman into the last life boat. "He didn't see me," Mrs. Wilburn recalled,
"and after he put her in, he yelled 'Lower, away!'"
"Then he turned and saw me. But by this time, the boat was this far away," she said, holding her frail hands about two feet apart. "So he picked me up--it's the honest truth--and threw me in." But his aim was off. Mrs. Wilburn struck the side of the lifeboat with her knees and fell into the freezing ocean. "The people on the boat grabbed me and pulled me in," she said.
Mrs. Wilburn said she could not forget the screams of dying passengers as the ship's porthole lights disappeared row by row beneath the 28-degree waves. The lifeboat crew sang "Pull for the Shore, Sailors," so they wouldn't have to hear the cries, she said.
Until the end, she recalled, the ship's orchestra continued to play "Nearer My God to Thee." "I can hear it like it was being played now," she added. As the night passed, the sea became littered with bodies. "The dead came up holding children in their
arms. The poor people never had a chance. There weren't enough lifeboats," Mrs. Wilburn said. During the night the survivor's hopes rose and fell as other liners appeared. "But none of them picked us up. They didn't want to come into the zone
because of the ice," she said.
Eventually, the liner "Carpathia" rescued her and others. When it reached New York, Mrs. Wilburn was greeted by her sister and brother-in-law, whom she originally had set out to visit. A few months later, White Star Lines, which owned the Titanic, offered free passage back to England for survivors. Mrs. Wilburn accepted, but soon returned to the United States.
She eventually met and married John Wilburn, an American sailor who served in the Navy during World War I. He later operated a hardware store in Tottenville, on Staten Island. In later years, the Wilburns moved to Syracuse because they had relatives here.
Mrs. Wilburn was a life member of the Order of Eastern Star in Tottenville, Staten Island. She was a Red Cross volunteer many years. Surviving are a son, Carl of Syracuse; two grandchildren, Robert of Liverpool and Carol Robinson of Brewerton; and five great grandchildren.
Services will be at 1 PM Friday at Loretto Geriatric Center Chapel. Burial will be in White Chapel Memory Gardens, DeWitt. There are no calling hours. Arrangements are by Butler-Badman Funeral Home.
---
Submitted to the NYBROOKLYN-L list.
The following copy of an obituary . It was not dated but based upon the information contained within the gentlemen died in 1986. It reads as follows:

Marshall Drew, 82, Survived Sinking of Titanic

Greenport - Marshall Drew, 82, and accomplished artist and one of the last survivors of the sinking of the Titanic in 1912, died Friday night from heart failure at Eastern Long Island Hospital.

A resident of Westerly, RI, and a frequent visitor to Greenport where he was born and raised, Mr. Drew entertained groups across Long Island and elsewhere with its tail of the legendary shipwreck.

But his friends and family members said Mr. Drew's escape at age 8 from the sinking Titanic should be remembered as the opening of a life filled with accomplishments in teaching, photography, painting and calligraphy

Born in Greenport in 1904, Mr. Drew traveled to Cornwall, England with his aunt and uncle in the winter of 1911-12 to visit relatives. The returning on the Titanic when the ship struck an iceberg on the night of April 14, 1912. Mr. Drew and his Aunt, Lulu Drew, loaded onto a lifeboat while Lulu said a tearful goodbye to a husband, James, who died in the shipwreck. He and his Aunt were among about 700 survivors; about 1500 perished. Edward Kanuda of Indian Orchard, Mass., the founder of the Titanic Historical Society in 1963, said Mr. Drew was a charter member and was one of an estimated 20 remaining survivors

Mr. Drew to what fine arts at Grover Cleveland high school in Ridgewood, Queens, for 36 years.

He is survived by a daughter, Bette Elizabeth Drew of Hoboken, N.J., four grandchildren and three great-grandchildren. They'll be a memorial service at later date, with burial at Riverbend Cemetery in Westerly.