Shelter Island Windmill
H. P. Horton - 1957
The graceful old windmill that stands on the Sylvester estate on Shelter Island succeeded one which was burned down more than a century ago. The first mill dated back to Revolutionary times when Nicoll Havens ownd a thousand acres there and ran the mill as an essential adjunct to the islands farming operation. Following his death and that of his eldest son, a large part of the tract was sold, about the year 1800, to Joseph Congdon Sr. who thereupon ran the mill.
It must have been a very old structure even in Congdons day as its works wore out some years before it burned,. Following the fire his son, Joseph Jr. transferred its two stones to his blacksmith shop, a half-mile away, and there one still remains. The other was acquired some years ago by Congressman Lathrop Brown for a windmill on Montauk which he had purchased and was remodeling into a summer residence.
The present windmill on the Sylvester estate was originally erected across the water in Southold town. Purchased by Joseph Congdon Sr. in 1840, he had it taken apart and transported by boat to the west shore ot Shelter Island. In the process of moving, however, the main cogwheel which supported the wings of the mill was lost overboard. Congdon had this replaced and erected the mill near the present public library where for a decade under his management it served the communitys grinding needs.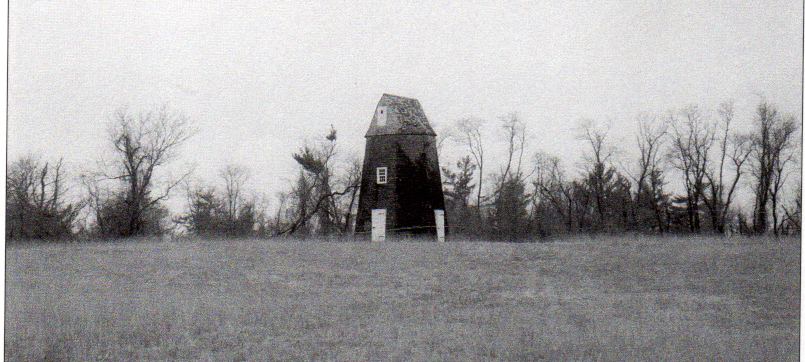 Sylvesters Mill on Shelter Island Mill contains one run of burr and rock stones. Two crown wheels are mounted on upright shafts above the
spur wheel. In 1839, it was moved across Long Island Sound to Sylvester Manor on Shelter Island. Its owner during the war, Cornelia Horstord,
had it renovated and worked in order to provide meal and flour to the inhabitants of Shelter Island during the food conservation period of World War I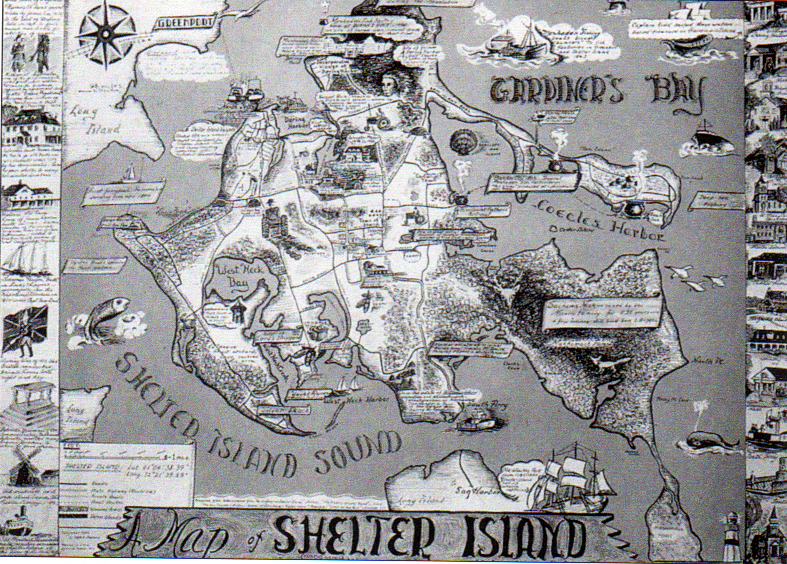 Shelter Island is an irregular shaped land situated between the two forks of eastern Long Island. In 1641, the owner, James Farrett,
sold the land to four Royalists seeking shelter from European tyranny. One of the four, Nathan Sylvester, later bought the island
and built a mansion. His descendants are still among its inhabitants. In 1656, during the religious persecutions on Long Island,
the Quakers sought refuge on Shelter Island. It has become a renowned resort for New York City patrons.

In 1850 the mill was again sold, this time to Captain Smith Baldwin, a retired whaling captain who, it was said at the time, simply wanted the wind to continue to do his bidding, propelling his mill as it had propelled his ship. Baldwin, it seems, was a very devout man and liked nothing better than to sit, Bible open on his knees, beside the grinding stones and read scriptures.
In 1870 the mill was acquired by another ex-skipper of whaling ships, Captain Benjamin Cartwright, who soon discovered that much less grain and corn were now being grown on neighboring farms. In 1879 he sold the mill to Miss Lillian Horsford, who later became Mrs. Farlow, and being a woman of means retained the ancient structure simply as a landmark significant of locai history.
During the first World War, after a long period of inactivity, the mill was reopened. Its arms were refitted with new sails and its great stone wheels began making meal and flour to relieve a local shortage. A former miller was engaged to carry on what by then had become almost a lost art in that vicinity. Following the war and after another period of inactivity, in 1926 the mill, then owned by Mrs. Farlows younger sister, Miss Cornelia Horsford, was again moved, this time to the field on the Sylvester Manor Farm where it has since stood.
Interesting stories are told of Shelter Islands picturesque old mill. Many years ago, despite its placid appearance, it suddenly became a man-killer by bringing one of its great arms down upon the head of a thoughtless bystander. A less gory tale is that of a long spell of calm weather, back in the 1840s, when no wind blew across Shelter Island, and the arms of the mill stood still day after day while farmers and their wives waited in vain to replenish their barns with feed and their larders with flour, meal and buckwheat.
As always at such time, the entire communitiy prayed fervently for wind. Miller Congdon, being an especially devout Presbyterian, prayed longer and louder than anyone else. Finally when the first puff of a two day gale arrived, it did so on a Sabbath morning and while his clients dutifully went to church to express their gratitude. Congdon remained at the mill grinding their corn and grain.
On the following Sabbath, the story goes, as the miller sat in his pew, the pastor eloquently commended his great service to the community and then, quite as eloquently rebuked the miller for having broken the Sabbath. After which at the pastor's suggestion all hands joined in lustily singing "Bringing in the Sheaths."


Shelter Island - "The Gristmill" c. 1890
The windmill was built in 1810 in Southold by Nathaniel Dominy jr. using parts
of a previous mill. It was moved to Shelter Island by barge and put to use
grinding corn and wheat at its location by the schoolhouse


A Modern photo of the Shelter Island Gristmill
Be sure to visit the Shelter Island Historical Society Website for more information on Shelter Island History
First appearing in the LI Forum 1957 No Copyright Information Data Found