Links to a few of our most popular features
---
MOUNT PLEASANT CEMETERY
Cemetery Rd (just West of Kaler's Pond on Montauk Hwy)
Center Moriches, NY 11934
Phone: (631) 878-0482



This copy of the cemetery inventory was donated to Long Island Genealogy by Van Field. The original copy was prepared for Suffolk County Historical Society in Riverhead.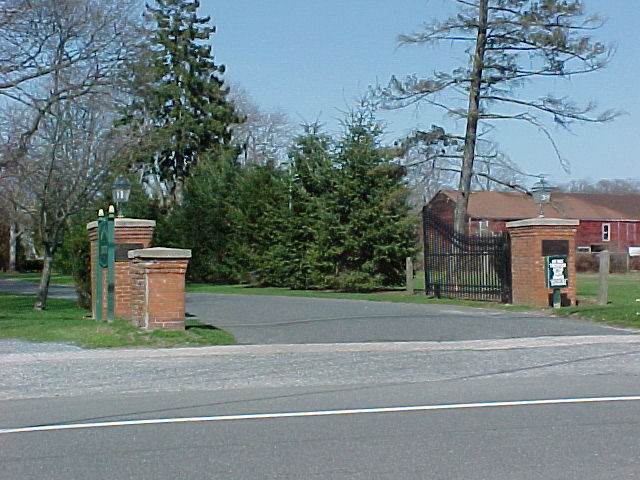 In 1850 Josiah Smith donated seven acres of land, one-quarter mile west of Kaler's pond for a parsonage and parish cemetery to the Center Moriches Presbyterian Church. Today much of that original parcel is what makes up the current Mount Pleasant Cemetery. The cemetery portion was incorporated in 1870.
Osborn Shaw's description of Mt Pleasant: "Mount Pleasant Cemetery, on the north side of Montauk Highway, Route 27, in the eastern part of Centre Moriches, back of the old Presbyterian parsonage. This cemetery was first called 'The Presbyterian Cemetery of Moriches,' and originally contained about 14 acres, being a part of some 7 acres, given by Capt. Josiah Smith for parsonage land. It was opened for burial in or about the year 1851...it is stated that the first burial was that of David Lanphier (who died Christmas 1850). It is therefore evident that any stones in this Cem. with death dates prior to the above dates have been moved in from other graveyards."
On Oct. 24, 1996 Mount Pleasant Cemetery made the national stage when a 500-pound, 6-foot granite obelisk, with an airplane figure etched into the top, was unveiled at Mount Pleasant. It was intended as a memorial and lasting tribute to the victims of TWA Flight 800 and, hopfully, as a comfort to loved ones left behind.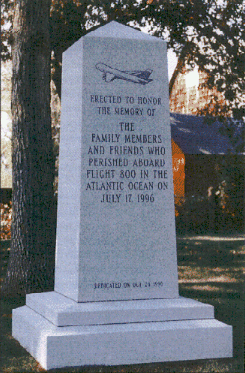 This Following presentation contains two lists of individuals buried at Mount Pleasant. The larger list below was done recently while the smaller was done by Osborn Shaw somewhere between 1938-1939. There are names on Mr Shaw's list which are not on the newer. Perhaps stones have become unreadable over the past 50-60 years, broken or vandalized. Either way no listing would be complete without presenting both lists.
Burial Listing by Surname
List One - done within the last 10 years
.
List Two - done by Osborn Shaw about 1938-39
.

Two Examples of Mount Pleasant Cemetery Association DEEDS - 1885 and 1918

---
RESOLUTION NO.547-2001, CONSENTING TO THE ACQUISITION OF ADDITIONAL LAND AT CENTER MORICHES, TOWN OF BROOKHAVEN, COUNTY OF SUFFOLK, STATE OF NEW YORK, BY THE MOUNT PLEASANT CEMETERY ASSOCIATION, INC., FOR CEMETERY EXPANSION PURPOSES

WHEREAS, a petition, dated April 2, 2001, has been filed with the Suffolk County Legislature by the Mount Pleasant Cemetery Association, Inc., pursuant to Section 1506(c) of the NEW YORK NOT-FOR-PROFIT CORPORATION LAW, requesting permission of the Suffolk County Legislature to expand its existing cemetery at Center Moriches, Town of Brookhaven, County of Suffolk, by the purchase of approximately five (5+) acres of land, described as follows:
ALL that certain plot, piece or parcel of land, situate, lying and being at Moriches, Town of Brookhaven, County of Suffolk and State of New York, being more particularly bound and described as follows:
BEGINNING at a point on the westerly side of Middle Island Road distant northerly the following four courses and distances from the intersection of the northerly side of CR 98 (Frowein Road) with the westerly side of Middle Island Road:

1. North 48 degrees 16 minutes 21 seconds East 74.32 feet;
2. North 02 degrees 56 minutes 49 seconds East 205.97 feet;
3. North 01 degrees 27 minutes 21 seconds East 724.10 feet to a monument;
4. North 54 degrees 18 minutes 29 seconds West 12.62 feet to the true point or place of beginning;

RUNNING THENCE North 64 degrees 18 minutes 29 seconds West along lands now or formerly of Paul Sapienza, Rose Wormsley and others 740.78 feet to a monument and land now or formerly of Town of Brookhaven;
THENCE North 06 degrees 01 minutes 02 seconds East 314.11 feet still along lands of Town of Brookhaven;
THENCE South 64 degrees 18 minutes 29 seconds East 731.56 feet to the westerly side of Middle Island Road;
THENCE Southerly along the westerly side of Middle Island Road (1) South 02 degrees 22 minutes 30 seconds West 61.33 feet and (2) South 05 degrees 36 minutes 10 seconds West 195.79 feet to the point or place of BEGINNING; and
WHEREAS, the Brookhaven Town Board on February 2, 1999, granted an approval for the use of this proposed land as a cemetery pursuant to Section 1506(b) of the NEW YORK NOT-FOR-PROFIT CORPORATION LAW; and
WHEREAS, public notice of a public hearing in respect to said petition has been published for six (6) consecutive weeks in the official County newspapers pursuant to Section 1506(c) of the NEW YORK NOT-FOR-PROFIT CORPORATION LAW; and
WHEREAS, a public hearing was held with regard to said petition on the 26th day of June 2001, pursuant to Section 1506(c) of the NEW YORK NOT-FOR-PROFIT CORPORATION LAW; and
RESOLVED, that the Suffolk County Legislature hereby consents to the acquisition of additional land located at Center Moriches, Town of Brookhaven, County of Suffolk, State of New York, by the Mount Pleasant Cemetery Association, Inc., for cemetery expansion purposes.
DATED: June 26, 2001

APPROVED BY:
Robert J. Gaffney County Executive of the County of Suffolk Date of Approval: July 2, 2001