The Kelly Family
John Andrew Kelly was born in Charleston, S.C. on October 6, 1792. He died in New York City on January 6, 1833. His father was Johannes Kolle, born November 8, 1746 died October 19, 1791, and his mother was Anna Maria Werner, born 1754, died January 1840. The Kelly surname started out as Kollen, and future generations changed to Kollin, Kolle, and finally to Kelly/Kelley. The family of Johann Jakob Kölle migrated to S.C. in 1752 arriving about the first of December on the Brigantine John and Mary (SC Gazette, issue of 4 Dec 1752). As John Khele he was awarded a 400 acre bounty grant on Buffalo Creek near the Saluda River. Johannes Kolle's father was Johann Jakob Köllin/Kolle, b. 24 Feb 1711, m. 3 Feb 1739, Anna Catharina Sigler, b. 15 Oct 1713, daughter of Johann Sigler and Anna Barbara Ott. St. John's Lutheran Church records of Charleston say he migrated in 1752 with wife and 5 children to "Neu-England". (records available in Charleston, SC show that John Jacob arrived from Germany aboard the "John and Mary" with six (6) children. An additional son, Andrew was born aboard ship during the crossing). Johannes Kolle fought in the Revolutionary War with the German Fusiliers and was captured by the British and served in a prisoner of war camp (Rev. War pension application #21521). The Kolle family came from Blaubueren, Baden-Wurttemberg, Germany.
Johannes Kolle (John Kelly) lived in Charleston and was a baker with a home on King Street. He was a deacon in St. John's Lutheran Church, Charleston, SC. In the record of his first marriage he is said to have been of "Wurttemberg, Cloister Blaubeuren". The second wife, Mary Werner, made will 4 June 1834, proven 29 January 1840 (Charleston Wills I-J, 839). In her will she names her living children and the grandchildren of her deceased children.
John A. Kelly, born 6 October 1792, died 6 January 1833, married 8 March 1821, Anna Maria Friedle, born 2 August 1795 in Roigheim, Baden-Wurttemberg, Germany, died 2 December 1882 in Woodside, Queens, New York, daughter of Andreas Friedle and wife, Catherine Maria. John A. Kelly ran a dry goods store with his mother at 129 King St. before moving about 1825/1826 to New York City. After his death she remarried Caleb Tappan Howell. John A. Kelly was buried in the German Lutheran Cemetery (originally at 6th Avenue and Carmine St., Manhattan).
Children of John Andrew Kelly and Anna Maria Friedle:
John Andrew Friedle Kelly, born 22 January 1822, died 7 May 1897. Graduated from Columbia College at age 18 and was a newspaper publisher, "The Independent Press", in Williamsburg, Brooklyn, NY. Did not marry. Buried in Maple Grove Cemetery, Queens, NY.
Maria Hendrica Kelly, born 1824, died September 1896, married Alpheus Pierson Riker, born 1817, died 1882. Alpheus was a Customs officer. They are buried in Maple Grove Cemetery, Queens, NY.
John Constantine Kelly, born 1827, died 1910, was a merchant in Manhattan and did not marry. He is buried in Maple Grove Cemetery, Queens, NY.
Anna Maria Kelly, born 31 May 1831, died 18 January 1917, married Horatio Nelson Terrett, born 1813, died 1862. After his death, Anna Maria remarried Warren P. Crandall, born 1835. Anna Maria is buried in Flushing Cemetery.

| | |
| --- | --- |
| Anna Maria (Kelly) (Terrett) Crandall | Constantine Kelly |
The Friedle Family
The Friedle family emigrated from Wurttemberg, Germany in 1804 and landed on the island of Helgoland in the North Sea. They stayed there until about 1811 when they left for London and boarded a ship for New York City. By that that time, Andreas Friedle had died and his widow, Maria Catherine (Baur) Friedle ( 1751-1833) brought his ashes to New York City. The Friedle family was well to do and bought a house on 117 William Street, near Wall Street in lower Manhattan. At that time the family consisted of 2 brothers and 3 daughters: Christoph Frederick Friedle (March 3, 1786), Johann Andreas Friedle ( April 18, 1790), Catherina Magdelena Friedle (June 17, 1783), Anna Maria Friedle (August 2, 1795 – December 2, 1882), and Catherina Barbara (Friedle) Buddy. The history of the Friedle family is derived from the church records of Roigheim and the New York Time article on the pioneers of Woodside Queens, August 1, 1897. The Friedle family appears as communicants in the Lutheran church records New York City from 1811 onward. The Friedle family embarked on a business venture selling artificial flowers out of their home. The business flourished for a while and at one point they employed over 100 people. At some point, probably due to the sale of the artificial flowers to the southern market, Anna Maria Friedle and her brother, John Andreas Friedle moved to Charleston, S.C. Anna Maria set up a millinery shop on King St. where she presumably met her future husband, John A. Kelly. John Andreas Friedle established a wax museum, similar to the one that he had started in New York City. The museum was well received according to reviews of the day. He ultimately closed the museum and took the show to Cuba. The venture proved unsuccessful and he died on the trip home. Anna Maria Friedle married John A. Kelly on March 8, 1821. The Kelly's had a son and a daughter in Charleston: John A.F. Kelly and Maria H. Kelly. Sometime between 1825 and 1826 John A. Kelly moved to New York City with his wife and 2 children and resided with the Friedle family at 117 William St, Manhattan. In 1826, he purchased 115 acres of land with his sister in law, Catherine B. Buddy, in Newton, Queens from the heirs of the Sackett family. This acquisition was later to become the community of Woodside, Queens. The family manor house was located between today's 57th and 58th In 1867, most of the land was sold to a developer, Benjamin Hitchcock, who offered lots for $300. This was the beginning of the development of Woodside. The town was named after John A.F. Kelly's articles in his newspaper, The Independent Press, in which he wrote articles describing the "woodsy area" from his house. After Anna Maria (Friedle) (Kelly) Howell died in 1882, the family finally sold off the manor house to St. Sebastian's Church who built a church on the property and a rectory next door. Streets on Woodside Avenue.
The Howell Family
After John A. Kelly died in 1833, Anna Maria remarried Caleb Tappan Howell (June 4, 1798 – November 20, 1878). He was born in Chester, New Jersey, and was part of the Edward Howell family of Southhampton, New York. The Howell's lived in the Friedle house on 117 William St. until about the 1840's when the removed to the manor house in Woodside. They had one son, Caleb Tappan Howell, Jr. (February 2, 1835-December 11, 1911. He married Mary Steele (March 1844-February 12, 1909). They had one son, Hamilton Howell (Dec 1872-1952).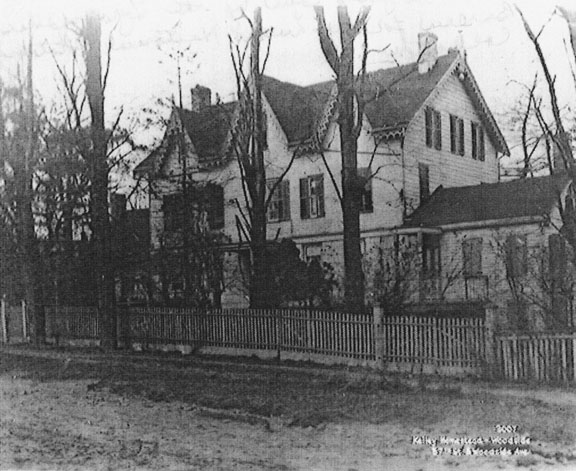 Kelly-Howell Mansion

The Terrett Family

Anna Maria Kelly (1831-1917) married first, probably at Newtown (now Woodside Village, Elmhurst), 14 February 1849, Horatio Nelson Terrett, who was born in Stonington, Connecticut, 15 October 1813 and died in Brooklyn, 30 October 1862, the eighth and youngest child of merchant/mariner Capt. William

2

Terrett (Capt. William

1

) and his wife, Hannah Fish Rossiter. Raised from the age of six in Granville, Massachusetts, he was a liquor and wine importer/dealer in the seaport area near Wall Street in Manhattan.

They had two children that died early and one son that survived to adulthood:

Horatio Nelson Terrett, Jr. (August, 1853-August 26, 1918).

He married Anna Virginia Crean (1857-1914) who was the first niece of James Gordon Bennett, the founder and publisher of the New York Herald Tribune.
Through his mother, Horatio Terrett Sr. was a direct descendant of Walter Palmer (Charlestown, 1629); Edward Rossiter (Dorchester, 1630); William Denison (Roxbury, 1631); Edmund Sherman (Boston, 1634); Thomas Lord (Newtown [Cambridge], 1635); Thomas White (Weymouth, 1635); Thomas Stanton (Hartford, 1636 [not Virginia, 1635]); Rev. Abraham Pierson (Boston, 1639), and Rev. Abraham Pierson Jr. (first rector of the Collegiate School of Connecticut [Yale]). Through his paternal grandmother, Antje/Ann/Nancy Lozier, he was a direct descendant of Francois LeSueur (b. near Dieppe, Normandy, France; New Amsterdam [New York City], 1657) and Albert Zabriskie (Amsterdam, Holland, to New Amsterdam, 1662)
H.N. Terrett, Jr. never worked, having inherited a handsome sum from his father.

H.N. Terrett, Jr. had 3 daughters:

Minna Virgina (1882-1950),

Evelyn Brenda, and Lillian Anna.

Minna Virginia married Thomas Clough (1878-1974) and they had one son, Malcom Terrett Clough who married Mary Ellen (1911-2000).

They are my parents.

| | |
| --- | --- |
| Anna Virginia Crean | Anna Virginia Crean |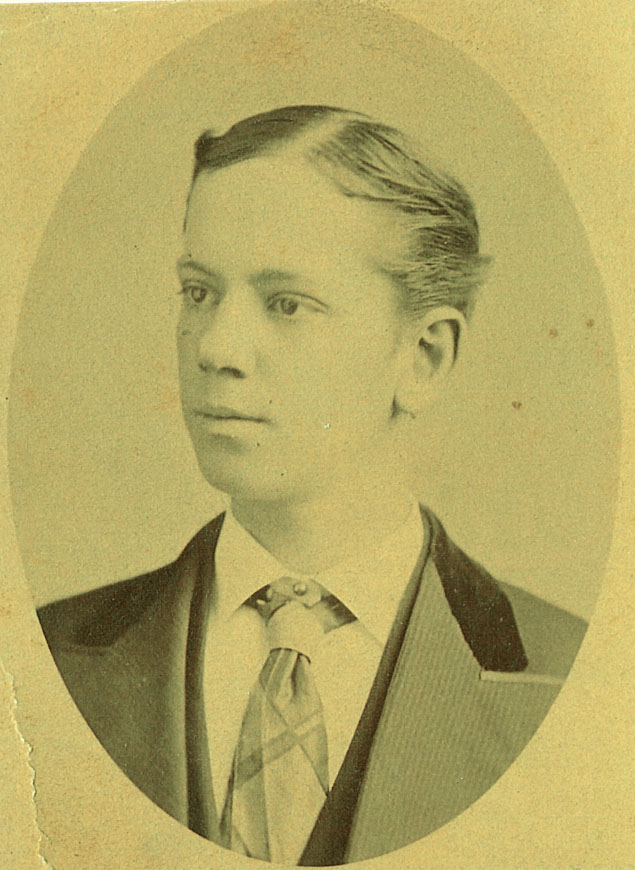 Horatio Nelson Terrett, Jr.
The Crean Family

Anna Virginia Crean was the daughter of Robert Crean (1827-1864). Robert Crean had 3 sisters: Henrietta Agnes (d. 1873, Saxony) who married James Gordon Bennett, the founder and publisher of the New York Herald Tribune; Georgina Crean who married A.V. Wickenberg and was living in Holland in 1881; and Helena Margarette Crean who married Lindsay Downs Richardson of Dublin. Robert Crean's mother was Eleanor Crean (1780-1860) who married Robert Crean of Dublin from the Crean Lynch Family. Eleanor Crean's father was Nathaniel Warren who was Lord Mayor of Dublin 1782-83. His father was Oliver Warren of Warrenstown, Co. Meath, and a Lieutenant in the Royal Navy, brother of Admiral Sir Peter Warren. Their parents were Lady Catherine Aylmer (d. 1726), widow of Sir Nicholas Plunkett of Dublin, and Captain Michael Warren (d. 1712). Eleanor (Warren) Crean, her son Robert Crean and his daughter Anna Virginia (Crean) Terrett are all buried in the Green-Wood Cemetery, Brooklyn, N.Y. Sources: The Irish and Anglo-Irish Landed Gentry by John O'Hart; and obituaries from the Newtown Register.

The Riker Family
Maria Hendricher Kelly married Alpheus Pierson Riker (1817-April 13, 1882). Alpheus's lineage drew from Abraham Riker who owned the island named after him. They had 3 children: Alpheus P. Riker, Jr. (1847-1885), Rena Wadell (1852-1885), and John Norton Riker ( 1845-1920). This branch of the Rikers' is all buried in the Maple Grove Cemetery in Queens.
The Crandall Family
After the death of Horatio Nelson Terrett, Anna Maria Kelly remarried to Warren Perrigo Crandall (1835-?). He was descendant from a long line of Baptist ministers from St. John Canada. They had at least one son, Chauncey Warren Crandall (December 10, 1866-December 24, 1928). The Chauncey Warren Crandall name has survived for 4 generations, having ended with C.W. Crandall IV (1954) who lives in Florida.
The Clough Family
Bentley Clough (1851-1902) married Mary Hargreave in England. They immigrated to the US in 1882. They had one son and 3 daughters: Thomas, Gertrude (1888-1909), Mary Alice (1882), Annie (1873-1964), and Beatrice.


1900 United States Federal Census about Mary M Howell

Name: Mary M Howell
Home in 1900: Queens Ward 2, Queens, New York
Age: 56
Birth Date: Mar 1844
Birthplace: New York
Race: White
Ethnicity: American
Gender: Female
Relationship to Head of House: Wife
Father's Birthplace: Scotland
Mother's Birthplace: Scotland
Mother: number of living children: 1
Mother: How many children: 2
Spouse's Name: Calab F T
Marriage year: 1870
Marital Status: Married
Years Married: 30
Residence : New York City, Queens, New York
Occupation: View on Image
Neighbors: View others on page
Household Members:
Name Age
Calab F T Howell 65
Mary M Howell 56
Hamilton Howell 27