Bloodgood Haviland Cutter
"Long Island's Farmer Poet" and friend of Mark Twain's.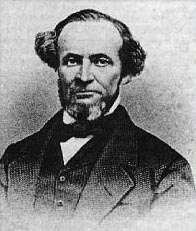 By the last quarter of the nineteenth century, a descendant of the Haviland family by the name of Bloodgood Haviland Cutter (1817-1906) had become the owner of practically all of what in 1929 would become the Incorporated Village of Plandome Heights. A more colorful character in Long Island history would be hard to find. Local Historians remember well the "Old Homestead" on Northern Boulevard, just east of Cutter Mill Road. Across the road, surrounded by Spanish-type homes, was the Haviland graveyard. A monument there read: "Erected to the memory of Mary Bloodgood Cutter by order of her son BLOODGOOD CUTTER". The large letters were typical of his egocentricity.
Bloodgood Cutter was once a common sight on Flushing streets, holding an open Bible in his hand and admonishing other persons by reading some passage. It was said he was hypocritical, and quick to foreclose mortgages on widows and orphans. The sizeable fortune in farms and waterfront acreage of Roe Haviland, his grandfather, is rumored to have been acquired by gains from smuggling. Oddly enough, his mother's second husband was a Roe Haviland. He had a limited education, mainly from the Bible, with farm work occupying most of his time. He married well, though, by eloping with a daughter of the well-propertied Allen family of Great Neck. Cutter later acquired the Allen mill, which there-after was called Cutter's Mill *and after which Cutter Mill Road in Great Neck is named). His main occupation was farming, but Cutter also became quite a propertied landowner, eventually owning numerous parcels in Great Neck as well as large blocks of land north of the railroad station and in Plandome Heights. During the course of his business dealings he developed a reputation for honesty and sound business acumen.
He also developed a reputation for being a "character." Perhaps it was his old-fashioned clothes, his country accent, or the poetry that he wrote and distributed. His reputation was sealed when in 1867 he booked passage for a 5-month trip to the Holy Land, Mark Twain turned out to be one of the passengers, and Cutter found himself immortalized in Twain's book Innocents Abroad as the character the "Poet Lariat." This is how Mark Twain described Cutter in his notes for the book:
"He is 50 years old, and small for his age. He dresses in homespun, and is a simple minded, honest, old-fashioned farmer with a strange proclivity for writing rhymes. He writes them on all possible subjects and gets them printed on slips of paper with his portrait at the head. These he will give to any man that comes along, whether he has anything against him or not."
For the rest of his life Cutter relished being referred to as the "farmer-poet" or the "Poet Lariat" and told of his acquaintance with Mark Twain to anyone he met. In 1886 he even had a 500-page book of his poetry published by a vanity press entitled The Long Island Farmer's Poems. It can still be found today, yellowing with age, in the Great Neck Public Library.
Cutter himself died in 1906 at the age of 89; a tall granite gravestone marks his burial site in the Zion Episcopal Church cemetery in Douglaston. Most of his estate, valued at over $500,000, was willed to the American Bible Society, including the Plandome Heights lands. His huge collection of books and antique furniture was sold at auction.
When Glen Cove celebrated its 200th anniversary in 1868 William Cullen Bryant was asked to write a commemorative poem. When he refused, Bloodgood Cutter wrote these lines.

The Bicentennial Celebration at Glen Cove, May 24, 1868
My friends, we have assembled here,
To celebrate the two hundredth year
Of this your pleasant dwelling-place,
And to thank our ancestral race,

For choosing this location grand,
As any in our common land;
Here you have a fine water view,
With all its privileges, too.

Oysters and clams grow on your shore,
You have them brought fresh to your door;
Then they are a delicious treat,
But canned, they're hardly fit to eat.

Last summer we had them on the ship,
While on our long excursion trip;
I did not fancy then their taste,
So quantities did go to waste.

Then, if you want salt water fish,
Can have the kind just as you wish;
Or if you want the splendid trout,
Go to your ponds and fish them out.

Here you have bathing-places good,
Where you can enjoy the briny flood;
In summer citizens here come,
To bathe and enjoy your rural home.

For bathing in the briny swell,
You know they generally pay well;
That is a great advantage too,
And benefits many of you.

For you to appreciate your home,
Around the world a spell should roam;
If in the East a spell you rove,
You'll long to get back to old Glen Cove.

Is above all supremely blest;
And to our ladies I can say,
They're highly favored every way.

Your tables at our fair does show
Fruit and vegetables as grand,
As any in our favored land.

And here you have a fine steamboat,
Faster than many now afloat;
In going to the city great,
She almost flies through Hell Gate strait.

You find it very healthy too;
And as you pass each point of land,
The scenery is very grand.

It is equal to Naples' Bay;
And 'tis by far much safer too,
For no volcano here hurts you.

Is generally with knowledge stored;
With society of this kind,
There's great improvement of the mind.

That will repay the farmers' toil;
Your onions planted in the field,
It seems enormously do yield.

Here too you have great water power,
That grinds your grain into fine flour;
Your mazena that's manufactured here,
And your starch goes most everywhere.

On that I think do of times feast;
I think I saw the boxes stand,
In Alexandria the grand.

To me indeed 'twas quite a treat,
To see there Glen Cove food to eat;
As through strange places I did roam,
It pleased me to see things from home.

In Cairo I went in a store,
And many boxes there I saw;
In fact, in what great place you go,
Glen Cove mazena they do show.

With all these blessings at command,
You need not seek another land;
But here you should contented live,
And thanks to the Almighty give.

Two hundred years have passed away,
And as to our fathers, where are they?
Old Father Time has laid them low,
And with us all 'twill soon be so.

From "Sounds and Sweet Airs," edited by Joan D. Berbrich



The following two newspaper accounts offer a deeper insight to the strange life of Bloodgood Cutter:
New York Herald, July 1, 1906 - There lives in comparative obscurity, the most romantic, picturesque and original character in contemporary American life. There is a spiritual quality about the fine old face, an elemental nobility about his splendidly modeled head, thatched with silken white hair - his is the face of a poet - whatever the shortcomings of his metrical expression.
"Come along and see my collection." From basement to garret its great rooms are piled full to choking with art objects and curios, gathered in his travels by the "Poet Lariat" from every nook and corner of Europe and Asia. To enumerate all the wonderful things it contains would require many volumes of catalogs. They include everything from fantastic old French bedsteads, German clocks and Venetian glasses, to curiously wrought warming pans and swords of many periods.
Mirrors and tall clocks and cabinets were hung and arranged along the walls. He now owns what is probably the greatest collection extant of Revolutionary clothes and firearms. He holds tenaciously to the old-fashioned literal interpretation of the Scriptures and firmly believes that the San Francisco disaster was a well deserved punishment for the vice and corruption of its inhabitants, just as Paris and N. Y., yes indeed, are going to be destroyed.
"But I have managed to be powerful happy, even if I am only a plain Long Island farmer and while I stand for education every time I do think some people have too much, and too much education has a tendency to make men selfish and sometimes unkind."
From the Flushing Journal, Sept. 29, 1906, three days after his death, the article is headed "Death of Bloodgood H. Cutter. It begins by quoting him, describes his residence and finally mentions that he has died.
"I don't know of anything more disgusting nowadays than to hear young people questioning the authority of their parents, and talking back to them. Schooling in those days wasn't like it is now, people didn't send their boys and girls away on the trains to go to school and teach them this, that and the other thing, such as the young folks learn nowadays. And now the men don't want to work either. They go up and down the trains and attend to what they call 'business' for a few hours. That isn't like the work I was taught to do when I was a boy.
"When I was sixteen grandfather (Roe Haviland, who had been an officer in the Revolutionary War, and a man of wealth and importance in Little Neck and vicinity) thought it was time I quit school. He put me on a coasting schooner and for ten years or so I was a sailor, running up and down between here and New York or up the Hudson to Albany. Then he died and left me his property" (which was considerable, farms at Little Neck and Manhasset, several with valuable water front). He rented these and invested in mortgages and gilt-edged securities. He also owned land in some Western states, Illinois and Iowa. He attributed his good health to his correct mode of living, never touched alcohol or tobacco.
In one room, the den, not more than 10 ft. sq., under the slope of the roof, were more than 200 different kinds of articles hanging from the ceiling and walls, piled upon a small table, and heaped indiscriminately on shelves, boxes and floor all covered with dust and cobwebs.
The second story is a perfect labyrinth of small rooms, each with 2 or 3 doors opening into others. The largest of these rooms is almost filled by a bedstead which was the pride of the farmer poet's heart. Its sides and ends are formed of elaborately carved wood with seventeen panels each containing an oil painting. The four posts are great pedestals of richly carved wood set in with onyx and capped with beautiful carrara marble standards for statuary. A gorgeous canopy floats like a fleecy cloud about the upper half of the bed. In addition to the bed there are a rare old wine service of Bohemian glass, silver tankards, Shaker bonnets, statues clothed in marvelous garments of all ages, looking like some queer masquerading party. Now in the small central hail, with everything from choice oil paintings to cheap prints, (all is) hung in an apparently unstudied jumble. Next is the door to the room where Mr. Cutter spent most of his days. In addition to an ancient desk, a cheap table, 2 or 3 old chairs, the usual medley of books and papers; standing, lying, leaning, toppling here and there are clocks enough to keep all the time forevermore.
Next to this sitting room is a dingy little cubbyhole with a single window, whose tiny dust covered panes are not even translucent. It is so filled with odds and ends of furniture and fragments that one must literally back out to turn around. Here Mr. Cutter slept and died, among dirt and bugs.

---

The Library of Congress on-line catalog has the following works listed for him:
1. "Lines on the Eqyptian obelisk "Cleopatra's Needle" by Bloodgood W. R. Burling, Printer, 1881 8 pages
2. "Poetical lecture, suggested after seeing the model of Solomon's temple" it also says the Long Island farmer, who delivered the descriptive part standing on the model at Temple Hall, March 5, 1860, L.I. Times Office, 1860 20 pages
3. "The Long Island farmer's poems" New York, N. Tibbals & sons (pub. for the author) c1886
4. "A poem on the New England kitchen", Little Neck, L.I., 1864 8pg.